In November 1956, Millard Gaddis, Howard Lovell, and Ishmael Underwood were ordained as deacons.

Reverend Brandon resigned as pastor in June 1957 to go to Cali­fornia to a large mission field. Reverend Orville Hickey, his suc­cessor, served until October 8, 1958. The church called Reverend T. C. Thurman of Dyersburg, Tennessee, as pastor in December of 1958. He served until May 10, 1960.

As time went on and our membership was increasing, a great need for a larger building was seen. The membership had grown from 45 to 200 in nine years. A building committee composed of H. S. Lovell, Estil Geary, Albert Shemwell, Millard Gaddis, and Robert Sandefur was appointed April 12, 1959. Plans were developed to build a new auditorium in front of the church and to remodel the old auditorium into Sunday School rooms. Work was begun July 1, 1959. We held our first service in the new building in March 1960.
---
[p. 105]

On May 22, 1960, the church called Reverend John Brandon to again serve as pastor. He accepted after much prayer and held his first service July 17, 1960. Work was progressing on the church building. Much volunteer work was done, financial offerings greatly increased, and a church building of which the church and com­munity can well be proud was completed.

1961 was a very good year for Calvary. All departments went forward in a great way. Membership increased fifty-nine during the year. Quite a few good Baptist workers who were employed by TVA joined the church.

On February 4, 1962 the church voted to buy the Casebier prop­erty adjoining the church. The house is used as a nursery; a part of the grounds for a parking lot.

During the early sixties, Christians were maturing, people were being saved — one year this church led the Association in baptisms — and church members were enjoying Christian fellowship.

In January of 1964 Reverend Brandon resigned to accept a church in Springfield, Tennessee. Reverend Floyd Berry of Hazard, Kentucky, was his successor.

During the fourteen years of Calvary Baptist Church, God has truly been good to us and has blessed us with new-born souls, the ability to build as space has been needed, and a wonderful fellowship with Him and with other Christians.
Mrs. Howard Lovell, Historian.

Editor's comment based on statistics in Associational minutes:
Some churches really deserve the name Missionary Baptist. Calvary must be missionary — she gave $28,658 to missions in the 16 years she has been reporting the Muhlenburg County Baptist Asso­ciation. She must be Baptist since she has baptized 292 people during this time — the smallest number, 2, in 1965; the largest, 45, in 1961.
Her love for the Lord's work is manifested by her generosity: she increased the value of her church property from $2,250 in 1951 to $60.000 in 1964; her total expenditures for all purposes has been $205,998.
Membership increased from 61 in 1951 to 404 in 1964. Large numbers of people joined by letter as well as by baptism.
Achievements in Sunday School, Vacation Bible School, Baptist Training Union, and Woman's Missionary Union have been well above the average Associational level.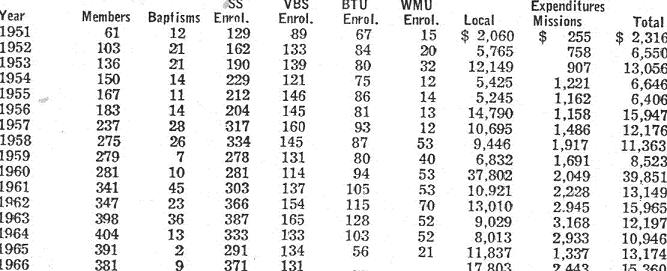 ---
[p. 106]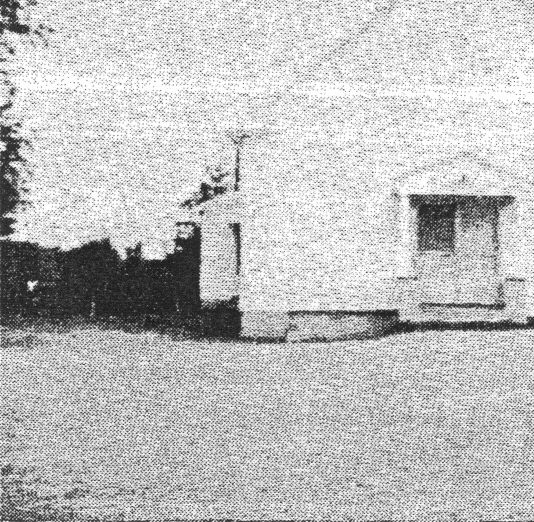 Carter Creek Baptist Church

Brother John S. Penley and others made a sincere effort to collect the facts about the early history of Carter Creek, but found little on record.

The church was constituted in 1887, and Brother Pendley found a record of her meeting with the Gasper River Associa- k» tion in 1888. She remained in this Association until 1907 when she became a constituent mem­ber of the Muhlenberg County Baptist Association. Brother Pendley submitted these rec­ords:

1888. Brother M. H. Whitson, pastor; J. S. Jenkins, clerk.
1890. J. S. Jenkins, W. T. Bradley, and E. Dwyer, mes­sengers to the Association.
1893. J. A. Mohon, and A. B. Cornett, messengers to the Association.
1895. Pastor, Brother J. W. Gill; clerk, J. S. Jenkins; pastor's salary, $75; baptisms, 13; membership, 75.
1902. Pastor, Brother W. H. Woodson; messengers, G. B. Mc­Clellan, I. McClellan, and Jake Stotz.
1904. Pastor, Brother W. H. Woodson; clerk, J. M. McClellan; messengers, J. W. Gill, A. B. Cornett, and James Wells.

The following facts wer taken from the minutes of the Muhlen­berg County Baptist Association:
In 1907, W. H. Woodson was pastor; Isham McClellan, clerk; J. W. Gill, W. D. Welborn, and S. C. Clardy, messengers; Jacob Stotz, Sunday School Superintendent. She reported 84 church mem­bers and 45 enrolled in Sunday School. The Sunday School met six months out of the year.

Membership declined during the next few years — 61 were re­ported in 1912. But, in 1913, 5 were baptized, 6 joined by letter, and 31 were restored, bringing the membership to 95. The following year 12 joined by baptism and 6 by letter.

Carter Creek entered the 75 Milliam [Million] Campaign Era — 1920-24 — with 106 church members and with 70 enrolled in Sunday School. She paid her pastor $120 a year for quarter time service. The total amount expended in 1920 was $690. During this five-year period she paid $1,107 to the Campaign, and she baptized 18 people into the fellowship of the church.

Like most other churches in the Association, Carter Creek fell off sharply in all financial contributions during the depression years, 1925-1940. Mission offerings ranged from not any to $20 a year; total expenditures were usually less than $200. Church membership remained under 100 until the last five years of this period when it reached 120.

In the early 1940's financial conditions became better. Pastor's
---
[p. 107]
salaries, mission offerings, and money spent on all church activities increased rapidly. Church membership did not increase until 1957 when it reached 136. 147 members were reported in 1960, 150 in 1963, 158 in 1964, 140 in 1965, and 186 in 1966.

The pastor's salary was $175 in 1945, $356 in 1950, $919 in 1955, $1,478 in 1960, and $2,532 in 1965.
Mission and benevolence offerings amounted to $35 in 1945, $190 in 1950, $508 in 1955, $456 in 1960, $939 in 1965, $934 in 1966.
Total expenditures in 1940 amounted to $106, in 1950 to $1,201, in 1960 to $3,978, in 1965 to $5,124, and in 1966 to $5,557.
Carter Creek baptized 152 peaple into her church fellowship from 1907 through 1965.

Pastors who have served the church are Brethren W. H. Woodson, 1907-1908; P. E. Herndon, 1909; C. S. Truman, 1910-1911; J. W. Gill, 1912-1918; I. B. Stuart, 1919-1921; J. W. Gill, 1922; L. Grundy, 1923; W. W. Woodson, 1924; None Reported, 1925; S. P. Shanks, 1926; I. B. Stuart, 1927-1929; R. H. Forsythe, 1930-1937; Bryan Wice, 1938-1946; W. D. Oakley, 1947-1950; M. R. Rice, 1951-1957; C. R. Skaggs, 1958; Bryan Wice, 1959-1966.

_____________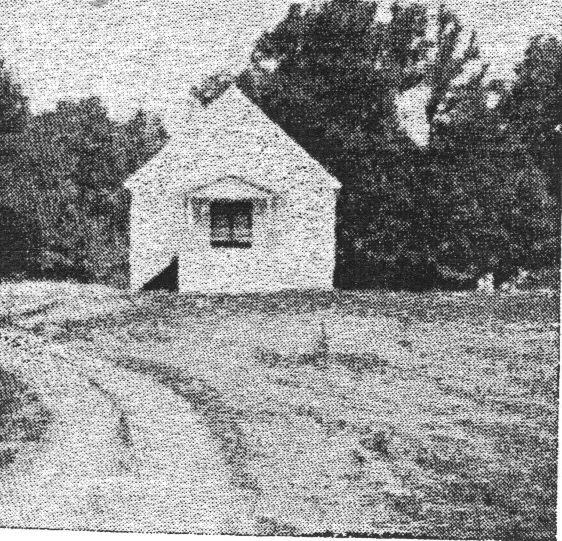 Cave Spring Baptist Church
"In Muhlenburg County, Kentucky, on the 19th October 1833, we the membars of Mt. Carmel Church met and or­ganized Cave Spring Church. We, Benjamin Pannel, Benjamin Pannel, Jr., Jordon Bass, Jacob Utley, James Utley, and William Dodd, members of Mount Carmel Church. Bethel Associa­tion, met on the day and date given above. Written by the request of this people and with authority from Mount Carmel Church of Jesus Christ of United Baptist to receive mem­bers in order for the constitu­tion of another church of the same faith and order and after the necessary arrangements, we gave an opportunity to any who felt disposed.

The following Brothers and Sisters came forward and by us were found orthodox and orderly and were received in order for constitution: Young Lovelace, Amanda Lovelace, John Moore, Mary Moore, Tempa Gary, John Owens, Meneva Shelton, Alcey Edwards, Polly Duvall, Martha Owens, Jordon Bass, Nancy Bass, Sina Bistin, and Mosiah Taylor. We whose names are here recorded by our request were examined with our rules of deacons (decorum) and Articles of Faith, and being found orthodox and orderly were constituted into a church by use of the United Baptist Order by a presbytery composed of brethren. Elders John Bowlin and William Brisindine. (This is copied out of an old minute book faded out quite a bit.)
---
[p. 108]

How Cave Spring got its name. There was on the Starling and Morning Hills' farm a high hill which is at present the Bobby Coomb's Farm. At the foot of it was a cave and in the cave was a spring flowing with water. The first church was a one-room log church. We don't know the exact year the church was dedicated. Starling Hill and wife gave land for the church for 25 cents. They deeded the land to Cave Spring Church trustees James Utley, James Wells, and David Dukes. The Hills emigrated to this county from North Carolina. We don't know the exact date when the church was built. The records show they met at the members' houses for several months. The church was moved from the Hills farm to the present location — two miles or less — about 1895 or 1896.

Some minutes remain of their meetings from March on through the year of 1841. Bro. K. G. Hay was moderator and Thomas Murphy was church clerk. A protracted meeting was held at their meeting place — the homes of the people of the church — in September 1841. Elizabeth Ann Duvall, Polly Dukes, and Benjamin Duvall were received for baptism. Later Elizabeth Hunt was received by baptism, and Thesdosid Atkinson, Nancy Brown and Lemuel Brown by letter.

Rev. J. U. Spurlin was called to pastor Cave Spring in November 1845. He served until January 1849. Bro. Calvin Meacham served as pastor during 1849 and 1850; Bro. William D. Pannel, during 1851 and 1852; Bro. M. H. Utley during 1853; and Bro. H. Putman during 1854. From this time until 1865 several moderators served, but some of the records are lost and an accurate list is not available.

In 1865 the Baptist Church of Christ at Cave Spring, Muhlenberg County, Kentucky, sent to the Bethel Association when con­vened with Spring Creek Baptist Church of Montgomery [?] County, the following letter:

Dear Brethren,
We are glad of another opportunity to represent ourselves in your body by letter and messengers. Owing to the distracted con­dition of our county we have not sent up our letter and messengers for some years as desired to do, but we hope and will try to be more faithful in the future. We are in a cold condition at present, and we have no pastor. Brethren pray for us that the candlestick be not removed out of its place. We send for printing $1.50 and, we have chosen our brethren W. L. Wells and T. L. Cary to bear our letter and sit with you in council. May the Lord preside over you in all of your deliberations.
Done by order of the church
September 14, 1865
W. D. Pannel, Moderator
W. L. Wells, Clerk.

Pastors who served the church from 1866 to 1907 when Cave Spring joined the Muhlenberg County Baptist Association include Brethren J. T. Barrow, J. U. Spurlin, A. N. Whittenhill, C. M. Pendley, T. D. Ragon, L. J. Stirsman, J. R. Ford, and John Bilbro. The church built in 1895 or 1896 on land donated by J. J. Rice was dedi­cated the 5th Sunday in October, 1904. Bro. Bilbro was chosen to preach the dedication sermon. A collection was taken up to the amount of $38.40 which paid the indebtedness of the church. The church was given over to God and dedicated to his service.

Bro. Samuel Brown was elected pastor September 1909, and served until August 1910. Bro. W. H. Woodson was chosen pastor in
---
[p. 109]
August 1910 and served until September 1911. Bro. John Bilbro was appointed moderator and served until May 1912. Bro. Jim Ford was elected pastor in August 1912 and served until May 1916. We don't have any record until March 1917 and Bro. T. G. Woodson was pastor for 5 months. In April 1917 a committee was appointed to [see] about repairing the church. In August 1917 Bro. Latt Grundy was elected pastor. At a conference meeting in September 1918 the committee on church repair was changed to a building committee. W. S. Sherrod was appointed finance committee. There were different preachers until April 1920 when Bro. J. H. Ashlock was moderator at the con­ference meeting. Bro. W. W. Payne came to the church in May 1920 at which time he was County Missionary. The church was in debt and didn't have any pastor, so Bro. Payne was elected pastor in May of 1920.

The church was dedicated to the Lord at a cost of approximately $2,500 on the 5th Sunday in October, 1920. Dr. W. D. No[w]lin preached the dedication sermon.

Bro. W. W. Payne was County Missionary and served the church from May 1920 until October 1921. Bro. E. Grimes was chosen pastor in October 1921 and served the church until February 1924. In Sep­tember 1923 Bro. Payne and the pastor Bro. Grimes held a revival meeting. Ten additions to the church resulted. Bro. C. R. Evitts was elected pastor in February 1924. During the month of August they had a gracious revival with 17 professions of faith and two joined by letter. In September 1925 Bro. Browning held a revival resulting in six additions to the church. Bro. Devine was elected pastor in Sep­tember 1927. In August 1930 Brethren Neal Phillips, W. S. Dukes, and Frank Dukes were elected church trustees.

Bro. Ira McCay was elected pastor in October 1930 and served until October 1932. During his pastorate there were 21 additions. Bro. Fred Fox was called as pastor in October 1932 and served until 1936. During a revival in July 1933 there were 27 professions of faith and 14 joined by baptism. Four others were baptized the fol­lowing month. Bro. M. V. Cotton was the evangelist in a revival held in June of 1934 when 9 joined by baptism. Bible institutes were held during May of 1934 and of 1936. Eleven people were baptized following the 1936 revival.

In October 1936 Brother M. V. Cotton was elected pastor and served until October 1938. Twenty-two joined by baptism during his pastorate.

Twenty-five joined the church by baptism during the pastorate of Bro. Bryant Wice — October 1938 to October 1942. Bro. Kermit Lovelace served as pastor from October 1942 until October 1946. During his pastorate Arvil West, Clyde West, and Floyd Phillips were made deacons. Arvil West was also elected church clerk and treasurer. Twenty-seven joined the church by baptism while Bro. Lovelace was pastor.

Brother Carlos Skaggs served as pastor from August 1946 to October 1950. Forty-two joined the church by baptism during this period.

Bro. W. D. Oakley served as pastor from October 1950 to October 1952. He was followed by Bro. Carlos Skaggs who served until December 1955. During this period C. P. Stovall and Bert Gregory donated about two acres of land to the church — deeded to Floyd
---
[p. 110]
Phillips, Clyde West, and Floyd Dukes, trustees. Bro. Jean Harper was the evangelist in the 1955 revival.

Bro. Herschel Burden was elected pastor in October, and served until March 1958. During this time the trustees leased the church ground to Ed. Morris for $800 to drill for oil. In April of 1957 a contract was given to Mr. H. H. Pepper to build Sunday School rooms in the church basement (six rooms and hall). During Bro. Burdens pastorate of the church 12 joined by baptism and 10 by letter.

Bro. Jean Harper pastored the church from March 1958 to December 1961. He had professed faith in Christ at Cave Spring Church and was baptized the first Sunday in August 1952. He was ordained to the full work of the ministry in May 1958. During his pastorate there were 36 who joined the church by baptism and 12 by letter.

Rev. Joe Spears was elected as pastor in March 1962, and he is our pastor at present. He has had 12 souls saved in his Sunday School class this year (1964). During Bro. Spear's pastorate he has baptized 16 and 10 have joined by letter. The present member­ship of the church is 197.

Members who have served the church as clerks are Thomas Murphy, William Utley, Thomas Murphy, W. L. Wells, W. W. John­son, N. J. Oglesby, H. T. Dugger, Amanda Brothers, Rinda Phillips, Neal Phillips, Arvil West, and Reginal Coombs.

Members who have served the church as deacons are Thomas Murphy, Nedom Butler, T. L. Gary, J. L. Spurlin, W. W. Johnson, W. T. Oglesby, J. W. Dukes, John Lile, Neal Phillips, A. F. Walker, B. F. Rice, T. J. Atkinson, Arvil West, Clyde West, Floyd PhiUlips, Yost Lee, and Reginal Coombs.
Mrs. Arvil West, Sr., Historian.

____________
Cedar Grove Baptist Church
On February 15, 1893, a Presbytery met at the Forehand School house for the purpose of organizing a United Missionary Baptist Church. Rev. W. H. Woodson was appointed moderator and Rev. L. J. Stirsman clerk. The church was organized with 74 members. The majority of them came from Mt. Pisgah and Old Bethel. They called the Rev. W. H. Woodson as pastor and dedicated the church in 1893. In July 1894 the church voted to invite the Little Bethel Asso­ciation to meet with them in 1896. In 1895 Brother G. P. Gardner was ordained to the ministry.

In January of 1906 [they] com­mitted to buy ground for a cemetery. In August of the same year the church voted to invite the Little Bethel Association to meet with them the next year, and in October elected
---
[p. 111]
messengers to meet with the Hazel Creek Church to discuss the pos­sibility of organizing a Muhlenberg County Baptist Association. Those elected were J. W. Noffsinger, Ed Lock, and Rev. L. J. Stirsman. In August, 1907, messenges were elected to the Little Bethel Association so that we might join the Muhlenberg County Baptist Association.

By May of 1914 the finances of the church had increased about three times over what it was in 1904 and 1905. This was the result of the Midland Coal Company moving in and putting more money into circulation in the community.

In August 1917 the church invited the Association to meet with it in August 1918. The pastor's salary for 1917 was $137.50. A Sunday school was organized the 5th Sunday in March. The minutes of this church from 1917 to 1931 are gone. Pastors who served during this period are Rev. W. H. Curl, Rev. J. C. Craig, and Rev. Frank Farmer.

In August 1932, an invitation for membership was given and there were 35 that came forward. They were baptized the next afternoon. In November 1933 the church licensed Brother Crunk to preach the gospel. The next year Brother Crunk asked for a letter to join the Nelson Creek Church.

During 1944 the church built a road from the church to the highway.

In July 1947 the cost of the addition to the church was reported: $271.35.

In November 1947 the budget system was adopted: one-third for the pastor, one-third for missions, and one-third for the church. A committee was appointed, August 1948, to see about Sunday School rooms. In November 1948 Ben Vincent reported that Devine Brothers had made a bid of $6,510.00. A committee was chosen to raise the money.

In April 1949 it was moved and carried to build a new church. The church was completed and the first service held Saturday night before the 2nd Sunday in March. (In March 1950 the old church was put up for sale.) The church decided to have the dedication the 5th Sunday in October. The following were appointed to write the history of the church: V. P. Noffsinger, Leonard McRoy, and T. A. Wilkins.

In February 1950 the budget system was changed to provide $40.00 a month for the pastor, 10% to the Cooperative Program, $3.00 a month to district missions. In August 1950 the pastor's salary was raised to $52.00 a month.

In January 1951 the church moved from quarter-time to half-time preaching. In May 1951 it ordered chairs, a table, and a stand. Two and one-half per cent of the 1953 offering was given to help build the County Missionary's home. During 1954 a cooling system was installed and paid for at a cost of $1,423.42. In 1955 the church gave $50.00 to help the Cleaton disaster. During the same year the church changed the annual call of the pastor to an indefinite call with a 60-day notice from the church or pastor. In October 1956 the church voted to go to full-time preaching the first of the year 1957.
---
[p. 112]

In January 1957 we received Rev. and Mrs. Fred Fox into the church and moved to take 10% of the church treasury and 10% of all church collections for a building fund. In October 1957 voted to have all church records recorded into one book with Aunt Ellen Whitmer doing the copying. In December 1957, after being questioned by pastor and church, Brother Ronnie Underwood was given a license to the ministry.

In November 1960 an invitation was extended to Old Bethel Church members to come and use this church any time they wanted to for their church had burned.

In January 1961 the church accepted the plans and the bid of $11,110.00 from the Perkins Lumber Company to build a parson­age on the ground that T. A. Noffsinger had given the church. We cut our offering to the Cooperative Program from 20% to 10% until the parsonage was paid for. This was done during November 1964. A drive had been made to wipe out the debt on the parsonage, The deacons were asked to head the drive by making a contribution of $100.00 each.

In December 1964 the church moved to accept the budget com­mittees' report in which they recommended that 5% of all regular collections be deposited in the building fund, and that the church give 3% of all regular collections to district missions and 15% to the Cooperatice Program.

The church has been served by 21 pastors and 21 deacons and 12 clerks. On December 9, 1964, the church moved that this con­densed history of the church be turned over to the Associational Historical Committee for use in the History of the Muhlenberg County Baptist Association.

Following are the names of pastors and the terms they served Cedar Grove Church.
Rev. W. H. Woodson, February 1893 to May 1900.
Rev. R. C. Allen, June 1 1900 to May 1901.
Rev. W. H. Woodson, May, 1901 to December 1901.
Rev. R. W. Danks, January 1, 1902 to December 31, 1902.
Rev. L. J. Stirsman, 1903.
Rev. W. W. Woodson, 1904 to August 1907.
Rev. P. E. Herndon, August 1907 to March 1909.
Rev. J. N. Jarnigan, March 1909 to June 1916.
Rev. John Grady, June 1916 to 1920.
Rev. W. H. Curl, 1920 through 1923.
Rev. J. C. Craig, 1924.
Rev. Frank Farmer, January 1, 1925 to December 1933.
Rev. Robert Spears, January 1934 to June 1936.
Rev. R. H. Forsythe, June 1936 to November 1939.
Rev. Marvin Stinson, 1940 and 1941.
Rev. C. E. Daniel, 1942 through 1944.
Rev. J. L. Parker, 1945 through 1948.
Rev. Johnnie Bruce, January 1, 1949 to July 1949.
---
[p. 113]

Rev. W. D. Oakley, August 1949 to September 1955.
Rev. Fred Fox, September 1955 to October 30, 1960.
Rev. J. L. Page, December 7, 1960
Rev. Gerald Jones, Sr., 1965 —

Following are the names of the clerks and the terms they served Cedar Grove Church.
W. B. Noffsinger, February 1893 to March 1893.
J. H. Brown. March 1893 to November 1896.
C. B. Noffsinger, November 1896 to December 1900.
J. G. Noffsinger, December 1900 to January 1903.
J. H. Noffsinger, January 1903 to February 1905.
J. W. Noffsinger, February 1905 to December 1910.
Ernest Noffsinger, December 1910 to April 1911.
S. O. Noffsinger, April 1911 to October 1912.
E. P. Noffsinger, October 1912 to September 1932.