In 1927, he was asked to record the songs for Brunswick in New York, and he was signed to the label on the condition that he sing using his high, tight "mountain" voice and forego his formal vocal training. Over the next two years, he recorded over 50 songs backed by New York musicians. Many were religious, but others ranged from traditional to popular ballads, including "Lady Gay," "The Sporting Bachelors," and "The Orphan Girl." His biggest hit was a version of "On Top of Old Smoky" called "Little Mohee," which sold over 15,000 copies. In the early '30s, the recently married Kazee lost interest in pursuing a music career and stopped touring to become the minister of a [the Baptist] church in Morehead, KY. For the next 22 years, he only sang publicly at revival meetings. Much later, he began using folk themes to compose formal music, such as a cantata-based on the old Sacred Harp piece "The White Pilgrim." During the folk revival of the early '60s, he made a comeback and was one of the first to appear at the Newport festivals. In addition to preaching and singing, Kazee also wrote three religious books and a book on banjo playing. He died in 1976. ~ Sandra Brennan, All Music Guide

Buell Kazee on how to tune a banjo - DVD - 7 minutes.
Buell Kazee - "Rock Island
Buell Kazee - "The Dying Soldier" - 3+ minutes.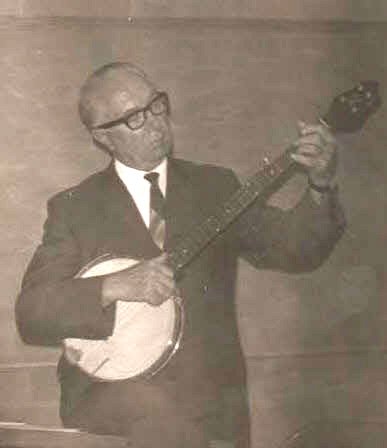 A Picture of Buell Kazee
While Visiting the English Class at
Lexington Baptist College
Taken by Ronnie Wolfe - 1965-66
---
Berea College (KY) has reproduced many of his works.

At the Seattle Folk Festival (1911): Buell Kazee Playing Banjo - Part 1

Seattle: "Buell Kazee Playing Banjo - Part 2

---
More on Buell H. Kazee