Of Huguenot descent. John was born July 22, 1727 in
Hopewell, New Jersey, to Daniel and Sarah Britton Gano.


After his conversion, he was baptized and united with the Baptist church
at Hopewell. His call to preach the gospel came while he was plowing a field.
Among the texts that took hold of his mind was: "... woe is unto me, if I preach
not the Gospel!" I Corinthians 9:16. He was ordained May 29, 1754, at Hopewell
and for fifty years plowed the eternal fields of the souls of men. As a minister
of Christ, he shone like a star of the first magnitude in the American churches,
and moved in a widely extended field of action.

The churches he pastored include:
Morristown Baptist Church -- New Jersey 1755-1757
Jersey Baptist Church -- North Carolina 1757-1760
First Baptist Church -- New York City 1762-1788
Town Fork Baptist Church -- Kentucky 1788-1798

During the Revolution, his services to his country were conscpicious.
He entered the army as Chaplain to General Clinton's New York Brigade.
"In the fierce conflict on Chatterton's Hill, when he saw more than
half the army flying from the sound of cannon, others abandoning
their pieces without firing a shot, and a brave band and of six hundred
maintaining a conflict with the whole British army, being filled with
chivalrous and patriotic sympathy for the valiant men who refused to
run, he could not resist the strong desire to share their perils, and he
eagerly pushed to the front." Of his conduct, Gano said, "My station in
time of action I knew to be with the surgeons, but in this battle I somehow
got in the front of the regiment, yet I durst not quit my place for fear of
dampening the spirits of the soldiers or of bringing on myself the
imputation of cowardice."

Also during the Revolution, his friend, General George Washington,
demanded the ordinance of immersion at his hands, to which he consented.
On April 19, 1783, when Washington proclaimed peace, he called upon his
friend, John Gano, who offered a prayer of thanksgiving to the Almighty
Ruler of the world. He lived to a good old age; saw his posterity
multiplying around him; his country independent and happy; and
the church for which he had laboured, advancing; and thus he closed
his eyes in peace; his heart expanding with the sublime hope of
immortality and heavenly bliss.

The grace of our Lord Jesus Christ be with you all. Amen.
_______

Marker placed by the Baptist History Preservation Society.
---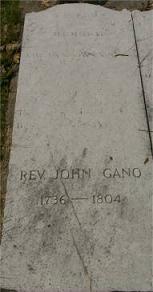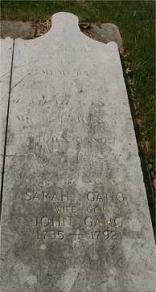 John and Sarah Gano's Old Grave Markers

---
More on John Gano
Baptist History Homepage