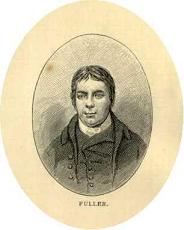 ANDREW FULLER SERMONS and ESSAYS


[Scroll down for additional documents.]

---


The Nature and Importance of Walking by Faith
2 Corinthians v. 7.
[Preached at Nottingham before the
Northamptonshire Association, June 2, 1784.]


---

Importance of Christian Ministers Considered as the Gift of Christ
Psalm lxviii. 18.
[Sketch of a Sermon addressed to the Church at Moulton
on the Ordination of Mr. (now Dr.) Carey, August 1, 1787.]


---

The Instances, the Evil Nature, and the Dangerous Tendency
of Delay in the Concerns of Religion
Haggai i. 2.
[Preached at a Ministers' Meeting,
held at Clipstone, April 27, 1791.]

---

The Blessedness of Those who Die in the Lord
Revelation xiv. 13
[Preached at Kettering, at the funeral of
Mr. Beeby Wallis, April, 1792.]

---

The Nature and Importance of an Intimate
Knowledge of Divine Truth
Hebrews v. 12-14
[Preached before the Baptist Association
at St. Albans, June 1, 1796.]

---


Jesus the True Messiah
Psalm xl:6-8
[Delivered in the Jews' Chapel, Church Street,
Spitalfields, Nov. 19, 1809.]


---

The Principles and Prospects of a Servant of Christ
Jude 20, 21
[A Sermon Delivered at the Funeral of
the Rev. John Sutcliff of Olney, June 28, 1814.]

---

Ordination Sermon by Mr. Fuller
I Timothy iv. 15-16.
The Baptist Magazine, 1823


---

The Young Minister Exhorted to Make Full Proof of his Ministry
2 Timothy iv. 5, 6.
[Sketch of a Sermon addressed to the Students
of the Stepney Academical Institution.]


---

Advice to the Dejected
Psalm xiii. 2.


---

Christian Patriotism
Jeremiah xxix. 7.


---

The Prayer of Faith, Exemplified in the Woman of Canaan
Matthew xv:15-28


---

The Nature of the Gospel, and the Manner
in Which it Ought to be Preached
Colossians iv. 3, 4.


---

The Great Question Answered
Acts xvi. 30-31

---

Ministers are Appointed to Root out Evil
and to Cultivate that which is Good
Jeremiah i. 10

---

Faith in the Gospel a Necessary Prerequisite to Preaching It
2 Corinthians iv. 13
[Sketch of a Sermon Addressed to the
Students of the Bristol Education Society]

---

The Broad and the Narrow Way
Matthew vii. 13, 14.

---

The Reception of Christ the Turning Point of Salvation
John i. 10-12

---

The Choice of Moses
Hebrews xi. 24-26

---

Soul Prosperity
3 John 2.

---

Prayer of David in the Decline of Life
Psalm lxxi. 9.

---

Conformity to the Death of Christ
Philippians iii. 10

---

Preaching Christ
2 Corinthians iv. 5.

---

Pastors Required to Feed the Flock of Christ
John xxi. 16

---

Spiritual Knowledge and Holy Love Necessary for the Ministry
John v. 35

---

On an Intimate and Practical Acquaintance with the Word of God
Ezra vii. 10.

---

The Qualifications and Encouragement of a Faithful Minister
Illustrated by the Character and Success of Barnabas
Acts xi. 24

---

The Obedience of Churches to their Pastors
Explained and Enforced
Hebrews xiii. 17.