"RICHMOND, VA., April 11, 1864.

" _________, Esq.,
"DEAR BRO. -- I confess my negligence. I ought to have written to you long ago, and would have done so but for the fact I was so sick several days before I left camp, and the wind caused my hut to smoke so badly that I could not write. I even
---
[p. 167]
might have written to you since I have been in town, but have delayed in order that I might convey a bit of intelligence which is to me a source of joy. It is this: Know you, my dear friend, I was yesterday admitted to membership in the First Baptist Church in this city, and on yesterday evening was buried with Christ by baptism. The weather was very unpleasant, being cold and rain falling fast, consequently not one of my friends was present to witness the ceremony. There was not one present whom I had ever met before, except Dr. Burrows. Indeed, I felt alone with Jesus. This, perhaps, surprises you, and I have only to say that it is the result of my deliberations on the subject of the relative merits of the different denominations of the Christian church, and a small Baptist triumph."

The religious influence brought to bear upon him in early life was not Baptist, as may be seen from this above.

Returning after the war to Mississippi, Mr. Tucker engaged in teaching school at Magnolia, Pike county. He also preached here in a temperance hall, rented at his own expense. Salem Baptist church, near Magnolia, ordained him to the full work of the ministry December 27, 1868, the presbytery consisting of Elders J. R. Graves, E. C. Eager and T. J. Drane.

In 1870 and 1871 he taught school at the Southern Car Works, Louisiana, preaching as opportunity offered. In 1872 and 1873 he served Sharon, Crawford and Bethesda churches, in North Mississippi. In 1874 he traveled in the interest of the Orphans' Home at Lauderdale, Miss., and edited a paper called the the Orphans' Home Banner." He was also pastor at Courtland, Batesville and Sardis, resigning in 1877 on account of throat affection. After the death of Dr. N. W. Wilson, in 1878, Dr. Tucker preached the remainder of the year at the Coliseum Place church, New Orleans, and for the next year and a half was a missionary in this city, appointed by the State Mission Board of Mississippi. His last work was in South Mississippi, with the following churches: Summit, New Providence, East Fork, Liberty, Mount Vernon and Jerusalem.

He was twice married -- first, to Miss Williana Dabney, of Brookfield, Va., November 1, 1866; second, to Miss Asenath Gordon, of Amite county, December 22, 1880. Two children were born to him, one by each marriage, both daughters.

Dr. Tucker was modest and unassuming and withal was an excellent preacher. He was much loved by his churches and they prospered under his ministry. He preached with great earnestness, his style being tender and pathetic.
---
[p. 168]
March 24, 1886, he was stricken with paralysis at his home near Gillsburg, Miss., and was never strong any more. Here he lingered until December 12, 1889, when the Master took him away to a happier region. At the girlhood home of his last wife his body reposes in the family cemetery.

1881 The seventy-fifth annual session of the Mississippi Association was held with the Summit church, October 7th to 10th, inclusive, beginning on Friday. The present method of giving the names of churches and messengers in the beginning of the minutes was begun this year, being formerly given in statistical tables. Elder C. H. Otken preached the introductory sermon at 7 :30 p. m., Friday. An election by ballot resulted in the continued choice of W. W. Bolls and W. Z. Lea for moderator and treasurer, while Elder E. W. Spencer was chosen clerk. Two more churches were received, viz., McComb City and Siloam. C. S. Fredericks was delegate from the former and Thomas Dredden and Thomas Aaron from the latter. Visitors from other bodies were: Central Association, J. B. Gambrell; Union, J. A. Snyder; Bogue Chitto, D. C. Walker and B. S. Turnipseed; Mississippi River, L. S. Piker, S. H. Thompson and D. F. Gordon; Fair River, W. H. Bailey and L. H. White; Pearl River, B. A. Crawford; State Mission Board, D. I. Purser.

A fine report on temperance was presented by J. B. Gambrell. Among other things the report says: "It is not necessary to argue in this report that Christians are required by the laws of the Kingdom to be temperate. Nor is it required that we argue that Christians are bound to be the friends of temperance. And more, we must be, not nominally, the friends of this cause, but the earnest, consistent and outspoken advocates of temperance, righteousness and judgment. The widespread intemperate use of ardent spirits, the desolation, sorrow, vice and death following this, the squandering of some $15,000,000 by the citizens of our commonwealth annually, the danger to the good order of society, all call loudly upon every man, woman, citizen and Christian to stand firmly by the cause of temperance."

At 11 a. m. on the Sabbath, W. W. Bolls delivered the historical sermon at the Baptist church, according to appointment, and the same was requested for publication in the "Baptist
---
[p. 169]
Record." Preaching services were also held at the Methodist and Presbyterian churches during the meeting by Elders Thomas Lansdell, L. S. Piker, J. A. Snyder and D. I. Purser.
The committee of one, Moses Jackson, continued from last year on the matter of publishing the minutes in book form, reported that there was still no fund on hand for the work. The clerk, E. W. Spencer, was appointed to make further investigation of the subject.
It appears that the Association was having trouble at this time in getting the delegates to remain through the meeting. Hence, this resolution was passed:
"Resolved, That the churches are hereby requested to send no delegates hereafter to the Association that are not willing to remain until the entire work of the Association is completed, during any one of its annual sessions."
It might be well to ascertain whether this resolution is still in force.
Elders Thomas Lansdell and S. R. Young were each allowed $25 for services as local missionaries, and Elder S. H. Thompson was paid $50.
The report on obituaries mentions the departure of George W. Terrell, clerk of East Fork church; Charles Strong and Hardy Cain, of Mount Zion; Sylvester Gardner, of New Providence; Stephen Jackson, of Galilee; Henry Cupid, of Damaseus; Andrew Cain, of Zion Hill; also a number of sisters. The report was written by Elder W. H. Tucker, and closes in this way: "Thus, one by one, we are passing away, and it becomes us seriously to consider the charge given us by the Master, to 'watch.'"
1882 The saints gather this year with Galilee church on the 6th day of October. Elder W. H. Tucker preaches the Associational sermon from I Cor. 15:58. The old officers are retained and the usual committees appointed. All the leading subjects fostered by the denomination are now considered in well-written reports.
Elders T. J. Walne and G. B. Rogers are in attendance, the former representing the State Mission Board, and the latter Mississippi College. L. S. Piker, S. H. Thompson and George H. Carpenter come from the Mississippi River Association, and Elder A. Sleeper (colored) from the Homochitto.
---
[p. 170]
Pending the adoption of the report on publications, T. J. Walne makes a stirring speech in behalf of the "Baptist Record." This is on Saturday, and at this point the body adjourns to hear a sermon by Thomas Lansdell.

The question of publishing the minutes in book form comes up for consideration, E. W. Spencer, the last committee, making this report: "Former committees have laid before you the cost of such work, and repeated effort was made to raise the necessary funds. I would call attention to the resolution of your body in 1847, that resulted in the publication of our minutes to that date." An account of this action has already been given in the proceedings of 1847. The body seems anxious for the republication of the minutes up to this date, and accordingly a subscription is made for this purpose by delegates and friends present, amounting to $159. And a further agreement is reached as follows: "On motion, ordered that a committee of one from each church composing the Association be appointed to ascertain how many copies of a book containing the minutes of this Association from its organization to the present time, can be sold, and report the same to C. H. Otken, who will have said book published, if the amount of said sale will justify; and that he have all that can be made out of the sale of said book for his trouble; the price of the book not to be over one dollar with paper cover."

At 11 a. m. on the Lord's day, T. J. Walne preaches to a crowded house, and a collection in cash and pledges is taken for State missions amounting to $99.85. In the evening at the request of Galilee church, a presbytery ordains S. S. Faust to the office of deacon.

A lengthy report on ministerial education appears from the pen of Major Webb, one paragraph of which says: "We have arrived at a point in our history when the churches and congregations in most localities desire educated preachers. This age of progress forces the conviction that an educated ministry is a necessity. We may further venture the assertion that the Redeemer's cause demands an enlightened exposition of the Scriptures of divine truth, and that this end is beyond the power of the uneducated and untrained mind."

The report on State Missions gives the following items as being the aims of the State Board:
First -- "To unify and develop all our churches and associations in the work of missions."
Second -- "To employ and send
---
[p. 171]
out faithful and efficient men to preach the gospel and organize churches in destitute places in Mississippi and East Louisiana."
Third -- "To aid feeble churches at important centers of population in securing and supporting efficient pastors."
Fourth -- "To employ suitable men as evangelists to aid pastors in protracted meetings and revive weak and declining churches, and to stir up and develop the missionary spirit among the churches."

The committee presenting this report is composed of L. S. Piker, W. H. Tucker and T. J. Walne. And the Executive Board state that they feel it to be their duty to turn over their funds to the State Mission Board. Elder E. P. Douglass, of Wesson, Miss., had been laboring since March as colporteur in the Fair River and Mississippi Associations.

The report on abstracts shows the following pastoral relations:
S. W. East is pastor of Damascus; S. H. Thompson preaches for Dry Fork, Union and Siloam; W. H. Tucker is bishop at East Fork, Liberty and Summit; Thomas Lansdell serves Ebenezer, New Providence and Union, Amite County; E. W. Spencer ministers to Fort Adams, Galilee, Percy's Creek and Woodville; C. E. Reed preaches for Hopewell and Union, Franklin county; W. W. Bolls serves Mars Hill, Mount Zion and Zion Hill; Z. Lofton preaches for New Salem and Ramah, and A. R. Long is bishop at New Hope.

Treasurer Lea reported receipts as follows: Associational fund, $77.10; Home Missions, $158.90; Foreign Missions, $167.17; total, $403.17.

Another preacher has passed away in the person of Elder E. Young. The committee on obituaries regret that they have not the facts relative to his life and labors.
---
[p. 172]
Although never connected with the Mississippi Association in official capacity, yet within its bounds W. A. Gill spent a number of years and accomplished a work in the cause of Christian education that will long live in the hearts of an appreciative people. It was this year, 1882, that he established in Amite county, by his own efforts and with his own money, the Gillsburg Collegiate Institute, a high school which has lived longer and accomplished more than any other in this section. Moving his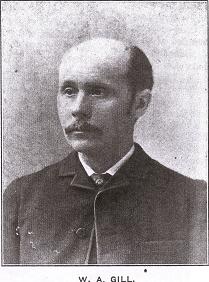 family and business interests from Greensburg, La., his former home, to Amite county, he built a splendid village, which took his name, and which soon became a center of influence for many miles around. His two eldest daughters were the first principal and music teacher respectively, and he watched the growing success of the young institution with joy and pride. The school drew large numbers of boarding pupils from the surrounding country, hence its power was felt in distant communities.
---
[p. 173]
Mr. Gill was a man of much energy and perseverance and so had large success in business. He was an uncompromising Baptist, faithful in his church relations, being especially liberal in the matter of contributions. He was likewise a strong advocate of temperance and prohibition, doing all in his power for the suppression of the "matchless evil." He was enterprising and diligent in every good work. For his home and family he cherished much affection. With him there was no place like home and no company like that of his wife and children.

Mr. Gill spent the last years of his life in banking, being the cashier of the Magnolia Bank, Magnolia, Miss., for ten years, and later at Kentwood, La. Several of his family, including his devoted wife, preceded him to the other shore. On January 5, 1907, with little previous illness, he was called from the busy world to that rest which remains for the people of God. His memory will be cherished for many years to come.

1883 Mars Hill church entertained the meeting this year, beginning October 12th. Thomas Lansdell delivered the first sermon from John, 14:15. G. B. Rogers and W. H. Tucker were the reading clerks, and the same moderator and treasurer were retained, while L. S. Piker was selected as clerk. The correspondence was as follows:

Mississippi River Association, L. S. Piker and A. G. Felder; Fair River, W. H. Bailey; Union, Joseph Buckles; Gulf Coast, A. C. Crain; Bogue Chitto, B. A. Crawford and J. H. Huckabee; Homo Chitto (colored), A. Sleeper and S. D. Jackson; State Mission Board, J. B. Gambrell; Mississippi College, G. B. Rogers.

Elder Peter Turner was also present, and was appointed on some committees. Elders J. B. Gambrell and L. S. Piker were appointed for the preaching service on the Lord's day. And try pledges were made for State missions aggregating $881.

Elder C. H. Otken was continued on republication of the minutes, and it was agreed to make an effort to raise $500 for the work.

A resolution was adopted calling on all Christians, temperance men and lovers of peace and order to meet in Liberty on Thursday, November 1, 1883, the purpose of the meeting being the suppression of the liquor traffic in Amite county. Another resolution, offered by W. Z. Lea, recommended to the State
---
[p. 174]
Mission Board the appointment of Elder Peter Turner as missionary on the Mississippi Valley Railroad.

The ministers present at this meeting were: S. H. Thompson, W. H. Tucker, Thomas Lansdell, E. W. Spencer, W. W. Bolls, Z. Lofton, T. P. Stewart, A. G. Felder, L. S. Piker, J. B. Gambrell, G. B. Rogers, W. H. Bailey, Joseph Buckles, A. C. Crain, Peter Turner, B. A. Crawford and H. G. Quin, besides a large number of prominent laymen. On coming to Amite county in 1883 the writer of these pages met for the first time many of these preachers and laymen, and he will never cease to cherish their memory. Alas! how many of them are gone. One is reminded of an open field, with here and there a standing tree. "Behold, thou hast made my days as an handbreadth and mine age is as nothing before Thee."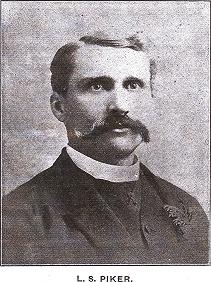 L. S. Piker


L. S. Piker was born in East Baton Rouge parish, Louisiana, August 24, 1853, and died at Brookhaven, Miss., May 25,1889. He grew up surrounded by Catholic influences, and was converted
---
[p. 175]
by reading the New Testament at seventeen years of age. He began preaching at nineteen, was ordained at twenty-one, and soon became a preacher of marked ability and power. He was educated at Centenary and Mississippi Colleges. On December 20, 1883, he was married to Miss Belle White, of Brookhaven; Miss. Two children, both boys, were born to them. He filled a number of prominent pastorates in Louisiana, Mississippi and Missouri, his last one being in St. Louis. His chief monument of service was the Baton Rouge church, which was built by his long-continued and self-sacrificing labors. He gave his time, his money and the strength of his life to build a church house in the capital city of his native State. He was an evangelist at one time, and his preaching was strong and clear, and his views of salvation and human need exceptionally good.

Mr. Piker was tall and commanding in appearance and was a popular and effective preacher. He was clerk of the Association in 1883.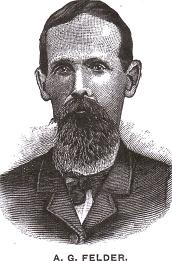 A. G. Felder


A. G. Felder was born in Amite county, Mississippi, May 22, 1847. He enlisted in the Southern army when quite young, and on returning home united with the East Fork church about 1865. His marriage to Miss Louisa Williams occurred February
---
[p. 176]
8, 1866. To them nine children were born. He was licensed to preach by the Red Bluff (La.) church in 1881, and ordained in 1882, the ordaining council being composed of Elders S. H. Thompson and R. J. Stewart. He was pastor of a number of churches and was blessed in his work, baptizing many people and otherwise building up the cause. He was at one time the moderator of the Mississippi River Association and filled the office well. His death occurred at his home in Gillsburg, Miss., August 31, 1887, and was an occasion of great sadness. A few minutes before the end he said to those who stood about him: "Now, brethren, if you want to see a Christian die, stand by and look on." Strong men wept like children as the spirit of the preacher left its earthly tabernacle for the regions of perpetual day.

Mr. Felder was a grandson of the late Charles Felder, one of the pioneer preachers of our country, an account of whose life and labors has already been given.

1884 The body met this year with New Providence church, Amite county, October 10th. The opening sermon was delivered by E. W. Spencer, from Ezekiel, 11:4. J. R. Sample and T. J. Scott were the reading clerks. The same chairman and treasurer were retained, while G. B. Rogers, who was then pastor at Woodville, Wilkinson county, was chosen to do the writing. The Natchez church again made application for membership, and was received, the pastor, Z. T. Leavell, being the messenger Correspondence from other bodies was as follows: Mississippi River Association, A. G. Felder, O. L. Parker and Iverson Morgan; Gulf Coast, A. C. Crain; Central, C. H. Green; Tennessee Convention, E. C. Gates; Mississippi College, I. H. Anding.

Elders M. C. Cole, of New Orleans, and H. Woodsmall, of New York, were also present, the latter representing the Home Mission Society. And he addressed the Association on the subject of his work, viz., teaching colored preachers in the South.

On the Lord's day there was preaching by Elders Z. T. Leavell and Peter Turner, the text of the former being John, 14:27, and that of the latter, Luke, 19:10. At the close of the morning sermon a collection of $44.15 was taken for Valence Street Mission, New Orleans.
---
[p. 177]
A preamble and resolution were adopted, introduced by E. B. Seale, of Union church, charging that Liberty, Zion Hill and Siloam churches were tolerating cases of adultery, and serving notice that unless the same was corrected it would be the duty of the Association to take the necessary steps of withdrawal. And these churches were requested to take such action at once as would remedy the evil complained of.

The ladies held a meeting on Monday, led by Miss Emma J. Gardner. Talks were made by Miss Gardner, Mrs. C. H. Causey, Miss Laura Fugler and Mrs. P. L. Bates. And a collection of $9.20 was taken for the Valence Street Mission, New Orleans.

A resolution was passed renewing the pledges made two years ago at Galilee church, to republish the minutes of the Association in book form.

The report on Mississippi College says: "This session has opened well. One hundred and sixty-five students have already been enrolled, something in advance of this time last session. Bro. T. H. Anding has been secured as financial secretary, and has entered vigorously upon his work. His effort will be to raise in two years an endowment fund of $25,000, and, in addition, a sufficient amount to supplement the tuition fund, so as to support a good faculty of teachers." The committee offering this report was composed of Z. T. Leavell, W. H. Tucker and J. R. Sample.

A good report on general education was submitted by W. B. Kinabrew, T. J. Scott and T. H. Hoff.

A. G. Felder was chairman of the Committee on State Missions, and Peter Turner of the one on Ministerial Education.

The report on obituaries makes mention of the departure of two more ministers, viz., D. Eby, of Fort Adams, and L. Schofield, of Summit, the latter having been a minister forty-three years.

The Executive Board reported that Elder S. H. Thompson had served as local missionary, laboring faithfully in destitute places within the Associational territory. George F. Webb was secretary of the Board.

The churches were ministered to this year as follows:
Liberty and East Fork had W. H. Tucker as their pastor.
Galilee had the services of E. W. Spencer.
New Salem had preaching by Joseph Buckles.
Ebenezer and New Providence were ministered to by Thomas Lansdell.

---
[p. 178]
Percy's Creek, Fort Adams and Woodville had G. B. Rogers a.s bishop.
Natchez enjoyed the pastoral care of Z. T. Leavell.
New Hope and Union (Franklin,) had G. W. Farmer as pastor.
Mount Zion, Hopewell, Zion Hill and Mars Hill were served by W. W. Bolls.
New Zion had A. G. Felder as pastor.
Sarepta was served by T. P. Stewart.
Summit and McComb City were ministered to by Peter Turner.
Ramah had the services of Z. Lofton.
Siloam, Providence and Union had preaching by S. H. Thompson.
---
[p. 179]
G. B. Rogers was born in Westville, Simpson county, Mississippi, February 28, 1857, and died in Waco, Texas, April 23, 1906. He was educated at Mississippi College. His ordination to the ministry occurred December 23, 1883, in the Baptist church at Clinton, Miss., the ordaining council being composed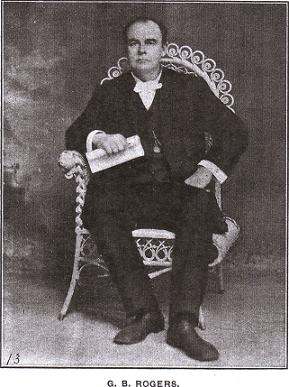 G. B. Rogers


of Elders W. S. Webb, J. B. Gambrell, A. V. Rowe, J. W. Collins, T. J. Walne and George Whitfield. His first pastorate was at Woodville, Miss., where he served two years, afterwards accepting an appointment by the State Mission Board as missionary on the Mississippi Valley Railroad. Remaining here two
---
[p. 180]
years, he was called to the care or the First Church of Lake Charles, La. Turning his face from his native State to the West, he moved with his family to the pastorate of that church. It was a great work and prospered much, but still going West, he accepted a call from the First Church of Beaumont, Texas. Here he labored three years, and then yielding to much pressure, he undertook the work of financial secretary of Baylor Female College, Belton, Texas. President Wilson, in reviewing the records of the college, once said to him: "No man ever did better or more faithful work for the college than did G. B. Rogers." Not being fully in the harness for soul-winning, he became dissatisfied and answered a call to the First Church of San Angelo, Texas. Serving two years on a far Western field, he then turned back, moving to Fort Worth, and took charge of the Chapel Car for Texas, under appointment of the American Baptist Publication Society. Residing two years in that city, he decided to move his family to Waco for the benefit of Baylor University for his children. In the Chapel Car work the same spirit that ever dominated in his life still prevailed. On the railroad, among the railroad men, forgetting self, winning souls for Jesus, he literally worked himself to death. So with six years on Chapel Car "Good Will," his labors on earth ended.

The foregoing sketch of the life and labors of Elder G. B. Rogers was furnished by his widow, Mrs. Rogers, of Waco, Texas. Writing under date of February 4, 1908, she says: "I take great pleasure in furnishing the desired information about the life of my dear husband. Under separate cover I send a photo of him, and also a little one of the car at one of his meetings. Eternity alone will tell of all the good he did among the railroad men of Texas. When he died some of them came a hundred miles to see him buried."

The following lines are taken from the obituary, published by Mr. Rogers' Association in Texas:


						"Powerful in the pulpit, 
						"Pious in his daily walk,  
						"Patient in much suffering."
In the midst of a life of usefulness and power, this servant of God was cut down, again reminding us that God's ways are not as our ways, nor His thoughts as our thoughts. But our friend rests from his labors and his works do follow him.
---
[p. 181]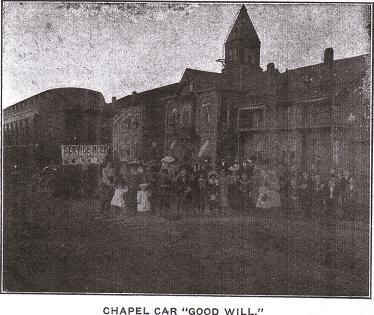 Chapel Car "Good will"


Mr. Rogers accepted an appointment by the American Baptist Publication Society for this Chapel Car work, February 1, 1900, and continued in this service until his death, April 23, 1906. The above picture represents him and his car in a meeting at Tyler, Texas, where more than one hundred people were converted.
---
[p. 182]
Z. T. Leavell was born in Pontotoc county, Mississippi., August 30, 1847, and grew to manhood in his native State. He was graduated from the University of Mississippi in 1871. He also took a three-year course at the Southern Baptist Theological Seminary, then located at Greenville, S. C. He professed religion when a lad or thirteen. Soon after his graduation in 1871 he was licensed to preach, his first charge being at Dalton, Ga. On July 22, 1814, he was married to Miss Julia Bass, of Macon, Ga,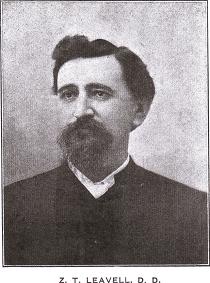 Z. T. Leavell


who, with two daughters, survives him. He was pastor at Murfreesboro, Tenn., and Oxford, Miss., serving at the latter place six years. He was next the financial agent of Mississippi College two years. In 1882 he accepted a call to the Baptist church at Natchez, Miss., remaining there five years.

In 1800 he took charge of the Carrollton Female College, at Carrollton, Miss., where he did an effective work, the attendance of pupils increasing from a small number to one hundred and twenty. In 1894 Mr. Leavell resigned the presidency of
---
[p. 183]
this school; and accepted the care of the church at Clinton, Miss., the home of Mississippi College. His last field of work as a pastor was at Edwards, Brandon and Madison, Miss.

As a preacher, Dr. Leavell was safe, sound and able. His language was choice and his delivery pleasing. As a writer he had few equals. His articles in the religious papers were models in thought and diction. He was the author of "Baptist Annals," a book of interest and value. His last work was the "Complete History of Mississippi Baptists," published in two volumes by T. J. Bailey in 1904. In this work he brought together a large amount of information concerning the work of the denomination in Mississippi.

In personal appearance he was handsome, being six feet tall and weighing two hundred pounds when in health. On the 12th of August, 1904, after a lingering illness, he died at his home in Jackson, Miss., in the prime of life, and in the midst of much usefulness. Interment followed at Oxford, Miss.

1885 The Association met with the Woodville church, beginning October 9th. The preaching of the introductory sermon was deferred to 7:30 p. m., but no mention is made of the service. Twenty-seven churches were represented, and organization was effected by the re-election of W. W. Bolls and W. Z. Lea as moderator and treasurer, respectively, while Elder R. N. Hall was elected clerk. Centerville church was received into the Association.. Correspondence was as follows: J. B. Gambrell, from the Convention Board; A. C. Crain, from the American Baptist Publishing Society; J. C. Gadd, E. W. Spencer and D. F. Gordon, from the Mississippi River Association; H. S. Archer, from the Tishomingo Association.

A committee on disorderly churches was appointed, and the hour of 9:30 o'clock on Monday morning was set for the hearing of the report.

The various subjects considered by the body, such as missions, ministerial education, Sunday schools, publications, etc., were presented in good reports.

It was agreed to co-operate with the Convention Board at Jackson, hereafter doing all mission work through this agency.

With a view to forming a new association, letters of dismission were given Woodville, Union (Amite), Providence, Fort Adams,
---
[p. 184]
Percy's Creek, Pioneer, Natchez and Dry Fork Union churches.

The following appointments were made for the Lord's day services: Baptist church, 11 a. m., J. B. Gambrell; 7 :30 p. m., W. H. Tucker; Methodist church, 11 a. m., R. N. Hall; 7:30 p. m., H. S. Archer.

It was decided to hold a session after preaching on Sunday night, at which there was some confusion as to adjournment, the moderator holding that the morning session on Sunday was not the proper place or time to arrange for a special session of the body; hence, he could not entertain a motion to adjourn. An appeal was taken to the house, and the chair was sustained.

The Executive Board reported that they had employed Elder Peter Turner at a salary of $500, and that he had preached at Centerville, Knoxville, Norwood and Wilson, on the Mississippi Valley Railroad. Churches had been organized at Centerville and Knoxville, and it was expected to organize one at Norwood, La., in the near future.

The committee on disorderly churches reported that Siloam church had amicably and scripturally settled her difficulty; also, that other churches besides Zion Hill and Liberty were in disorder from the same cause, and that such disorder had, in some cases, existed a long time. Wherefore, it was recommended that the pastors should preach at an early day on the New Testament law of divorce. And the churches were urged to exercise discipline in accordance with the divine law as soon as practicable. A letter on the subject of divorce had been received from Dr. John A. Broadus, of the Southern Baptist Theological Seminary.

This letter is as follows:


LOUISVILLE, KY., July 24, 1885.

"MR. W. Z. LEA:
"DEAR BRO. -- I did not intend to delay so long in answering your letter.
"The case you describe belongs to a class sometimes causing great pain in the action necessary to be taken. To me it seems perfectly plain that our Lord expressly prohibits divorce, except for the cause of unchastity. When, therefore, two persons have been by law divorced on other grounds, and one of them, during the lifetime of the other, marries again, I do not see how a church can recognize this second marriage, or fail to treat it as adulterous. It may sometimes be a very painful action to take.
---
[p. 185]
"Well-meaning people often confuse in their minds the civil and the religious element of marriage, and so may honestly think their action allowable in the second marriage, as it is according to the law of the State; but it seems to me clearly the duty of the church to exclude a member who has entered into such a marriage.

"But some prominent brethren among us incline to the opinion that Paul, in I Cor. 7, authorizes divorce on the ground of desertion -- a view from which has been developed, by degrees, all the loose divorce legislation of many Protestant countries. It seems to me a great mistake to suppose that Paul has changed the Savior's law on the subject, when his language means nothing more than that the Christian partners may live apart (separation, not divorce), if the heathen will not consent to their living together. But it ought to be borne in mind that some Baptists hold desertion to be a scriptural ground of divorce. The view I have taken is also that of Hovey on 'The Scriptural Law of Divorce,' where the subject is fully and ably discussed.


Yours truly,



"JOHN A. BROADUS."

At 4 o'clock p. m. on Sunday a woman's missionary meeting was held in the Baptist church, presided over by Miss Ellen Gibson, President of the Woodville Society. Elder J. B. Gambrell addressed the meeting. Sisters C. H. Causey and Katie E. Rogers also spoke, and a collection of $4.35 was taken for missions.

Treasurer Lea reported receipts for all purposes of $456.35. The nominating committee named as the next Executive Board W. Z. Lea, Winchester Everett, W. H. Bates, Wilford Robinson and Marshall Lea.

1886 It was Friday, October 8th, when the tribes assembled at Mount Zion, Franklin county, to attend the eightieth annual session or the old "Mississippi." The first preacher to be heard was R. N. Hall, whose text was Ephesians, 4:3, "Endeavoring to keep the unity of the spirit in the bond of peace." Eighteen churches answered the roll call, and some changes were made in the officers, R. N. Hall being elected moderator and D. M. Huff clerk, while "Uncle Wilford" still carried the Associational purse. Mr. Bolls, the retiring moderator,
---
[p. 186]
and who had been the presiding officer since 1877, delivered the gavel to his successor in an appropriate speech. Mr. Lea thanked the Association for the continued honor conferred upon him, and asked that he be allowed to retire after one more year.

Elder Lewis Ball came from the Convention Board; E. B. Seals from the Carey Association, and Elder A. Sleeper (colored) from the Homochitto, who brought $12.50 in cash to be forwarded to Mr. David, a missionary in Africa.

The matter of unscriptural divorce was still in the minds of the brethren, and the air was full of electricity on the subject. The moderator called Elder L. Ball to the chair. He then moved that the Liberty church should be given further time in which to consider the matter, as requested in her letter to the Association, and the same was granted. Mr. Hall then read a paper from Mars Hill church, charging Summit and Zion Hill with being in disorder, specifying that "they are retaining in their membership parties who are, from a scriptural standpoint, living in adultery." He then made a motion that the delegates from Summit and Zion Hill be debarred from any further participation in the deliberations of the body. This motion provoked long discussion, during which Elder Peter Turner moved to amend the motion by declaring the action of the last Association as final. J. R. Sample moved to amend the amendment by referring the case back to Zion Hill for settlement, which was carried. The Summit church, through her delegates, suggested that the charges against her be withdrawn, acknowledging the right of the Association to inquire into her standing. This was accordingly done, and a committee of three appointed to further investigate the matter, who gave it as their opinion that the Summit church would exercise the necessary discipline, and recommended that no further action be taken. The time of the Association was occupied with this matter until 11 a. m. Saturday, when Moderator Hall resumed the chair. On Monday afternoon the following resolution, offered by W. W. Bolls, was adopted:

"Resolved, That this Association appoint a committee of five to memorialize the Baptist State Convention, and, through that body, to secure the co-operation of the Baptists in the State in petitioning the Legislature to get the repeal of all those laws granting a divorce for any other cause than fornication."

New Hope church sent a query concerning the case of a man who was separated from his wife, and who had been licensed to
---
[p. 187]
preach. The answer was that it was not the proper thing to do to put such a men into the ministry

The preaching on the Sabbath was done by Elders L. Ball and C. H. Otken, and a mission offering was received, amounting to $51.80.

The Association resolved itself into a committee of the whole, J. R. Sample sitting as moderator, and recommended each church to raise for the various benevolent objects an amount proportionate to fifty cents per member.

The following extract is taken from the report on obituaries:
"We beg to mention the following -- viz., Hampton M. Lea, of East Fork church, the oldest deacon, a bright and shining light among his brethren. He lived a long life, abounding in useful works, and died after a lingering illness of several years' continuance, which was patiently endured. His hope in the resurrection comforted him to the last.

"Bro. Dempsey Cain, of Mt. Zion church, also an old man, beloved by all whose privilege it was to know him. Deacon John Nunnery, of New Zion church, also an old man rich in faith."

The ordained ministers of the Association at this time were the following: Peter Turner, W. W. Bolls, W. H. Tucker, H. G. Quin, Thomas Lansdell, S. H. Thompson, Chas. H. Otken, R. N. Hall, S. R. Young, T. P. Stewart, Z. Lofton and W. H. Weatherly. The licentiates were M. M. Whitney and J. R. Mullen.
---
[p. 188]
R. N. Hall was born and reared in Hinds county, Miss. At twenty years of age he enlisted in the Southern Army. In the battle of "Seven Pines," near Richmond, Va., he lost his left arm and was discharged. Returning home, he was elected probate clerk of Hinds county. Being a lawyer, he afterwards served as probate judge until he felt called to preach. After his ordination to the ministry in 1868 he held a number of pastorates in the Central Association until the fall of 1873, when he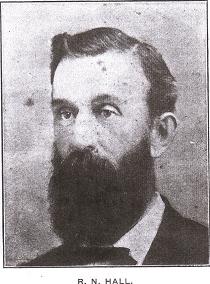 R. N. Hall


was elected agent of the Lauderdale Orphans' Home, and afterwards superintendent. He was in charge of this institution in 1875, when it was suspended. In the spring of 1877 he accepted missionary work in the Columbus Association. Later he located at Crawford, Miss., and was pastor there and at Brooksville. Shortly after this his wife died and he was subsequently married to Miss Emma Lea, of Liberty, Miss., a daughter of W. Z. Lea.
---
[p. 189]
Mr. Hall moved to Atlanta, Texas, in 1891, where he was pastor three years. He resigned this church to accept a call to Woodlawn, Texas, where he died October 2, 1894, interment following in the Woodlawn cemetery. While in Texas he displayed the same zeal and earnestness which characterized his earlier life. Occasionally he wrote letters from his Western home to the Baptist Record, sending good cheer and greeting to his friends. He was a man of strong convictions and good preaching ability. Mr. Hall was moderator of the Association three years and clerk one year.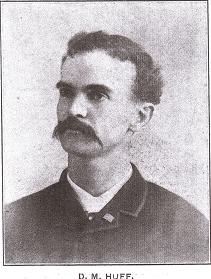 D. M. Huff


D. M. Huff was born December 9, 1858, near the present City of Gloster. He was educated in the Peabody public school and in Prof. J. B. Winn's high school at Summit, Miss. He united with the McComb City Baptist church in 1886, and was baptized by Elder R. N. Hall.

He was editor and publisher of the Magnolia Gazette from 1887 to 1900, one of the best local papers in the country. He
---
[p. 190]
took a prominent part in the prohibition campaign of 1888, which resulted in driving the saloons from Pike county. Be is the present reporter for the Times-Democrat, New Orleans, and also the clerk of the Magnolia Baptist church.

Mr. Huff was clerk of the Mississippi Association four years, from 1886 to 1889 inclusive. He is a ready writer and a man or cheerful disposition. His home is at Magnolia, Miss.
Eugene De Witt Schilling was born in Washington parish, Louisiana, January 25, 1861. He was reared on the farm, attending the country schools until grown. He also attended two sessions of the Gillsburg Collegiate Institute, graduating from that institution in 1886. When a mere boy he professed religion, uniting with Mount Hermon church. After his graduation at Gillsburg he taught a number of good schools, one in Holmes
---
[p. 191]
county, Mississippi, and one at Sunny Hill, Louisiana. About this time he felt it to be his duty to preach, and went at once into the work, being ordained at his home church.

He was married August 22, 1888, to Miss Nannie E. Thompson, who, with four children, three boys and one girl, survives him.

During his short ministerial career he was pastor at Osyka, Miss., and at Greensburg, Grangeville, Hepzibah, Rocky Creek, Bluff Creek and Kedron, in Louisiana. He was also called to the church at Pearsall, Texas, where he had gone hoping to improve his health. He was able to preach here, however, but a short time. He was twice elected moderator of the Mississippi River Association. holding that position when his health failed. He was also elected as principal of the Norvilla Institute, at Greensburg, La., but was never able to take charge of the work. He was much loved by his people, and gave promise of great usefulness had his life been spared.

After a lingering illness, superinduced by la grippe, he died at Pearsall, Texas, October 21, 1895. The body was brought home and buried at Greensburg, La., funeral services being conducted by Elders W. P. Price, M. T. Andrews and G. G. Thomas.

He was a brother to the compiler of this book, and his memory is cherished with fond affection.

1887 The place of meeting was East Fork, and the time October 7th. The introductory discourse was delivered by W. W. Bolls, from I Cor. 3:9, "Ye are God's husbandry." The officers of last year were re-elected, and Bethel church, Amite county, was received, H. N. Shaw and R. E. Callender being the delegates. The following were corresponding messengers: J. B. Gambrell, from the Convention Board; R. W. Merrill, from the Bogue Chitto Association; W. L. A. Stranburg, from the Union; T. C. Schilling, R. J. Stewart and D. F. Gordon, from the Mississippi River.

New Hope church sent a resolution concurring the case of the minister who was separated from his first wife, and the same was referred to a committee, who reported that they had received satisfactory evidence that the first wife was excluded from New Hope church for scriptural cause, and therefore there was no bar to the brother's ordination.
---
[p. 192]
Mars Hill church sent a query to this effect: "Should a church house be used for any other purpose than religious worship?" It was answered in the negative.

At 11 a. m. on the Lord's day, Elder R. J. Stewart preached on missions from Psalm 43:3 -- "O send out thy light and thy truth "-- and a collection of $52 was taken.

The Ladies' Missionary Union, of which Mrs. P. L. Bates was president, held an interesting session on Sunday, several societies being represented. Essays were read by Misses Lillie Avery, of Liberty; Ena Jenkins, of Gloster, and Helen Hodges, of Mars Hill. Elder W. L. A. Stranburg also spoke on "Woman's Work." The report submitted by Mrs. Bates showed that seven new societies had been organized, and the total sum of $120 given for missions. She was continued in her official position and also authorized to draw on the Associational treasurer for funds for incidental expenses.

W. W. Bolls presented a strong report on prohibition, saying in conclusion: "The family, the school, the church, the law and the ballot box are all invoked to aid in removing this curse from the earth."

The committee on "Disorderly Churches" reported that all troubles had been adjusted, and that the churches had set themselves right before the Association and the world.

A number of papers were recommended in the report on publications, viz.: "The Southern Baptist Record," "The Sword and Shield," "Foreign Mission Journal" and the "Magnolia Gazette," the latter being a secular paper, but decidedly moral in sentiment.

The departure of two deacons is mentioned, H. S. Anderson and Christopher Young, both of Mt. Zion. The committee said: "Their wise counsel and faithful services are widely known, and we can truly say their influence is still working for the Master's cause."

1888 Owing to the appearance of yellow fever in Jackson, Miss., the meeting was postponed for two weeks, the body convening with the Liberty church on the 26th of October. The opening sermon was preached by W. W. Bolls, whose text was Ephesians, 1:3, and the Association was organized by retaining the former officers, this being Mr. Lea's last year as treasurer. New Hope church, Amite county, presented
---
[p. 193]
a letter of dismission from the Magee's Creek Association, and was received, Peter A. Green being the delegate. Also Mt. Pleasant, Concord and Beulah churches asked for admission. W. M. Ezell came from Mt. Pleasant, and Geo. M. Cain and J. F. Burris from Concord. Beulah sent no messengers.

The visitors from other bodies were: J. T. Christian, from the Convention Board; A. J. Cook, from the Bogue Chitto Association; N. S. Cutrer, from the Mississippi River; W. L. A. Stranburg, from the Union; A. Sleeper and W. Smith (colored), from the Homo Chitto.

There was preaching during the session by Elders J. T. Christian, E. T. Smith, W. L. A. Stranburg and R. N. Hall, and collections for missions were taken.

The Ladies' Missionary Union held interesting services, essays being read by Mrs. Mattie J. Webb, Mrs. E. C. Oliver and Miss Callender. The annual report of Mrs. P. L. Blates showed seven more societies organized, 492 miles traveled, and the sum of $697.95 contributed. The following societies were represented in this amount: Gloster, Liberty, Centerville, Zion Hill, East Fork, Ebenezer, New Zion, Hopewell, Mars Hill, Summit, McComb City, New Providence, Ramah and Mount Zion. The society at Zion Hill led in contributions, being credited with $192.20.

The sum or $83.85 was raised in cash and subscriptions, to assist Miss Mattie Cook in school at Blue Mountain, Miss., with a view to her going as a foreign missionary.

It was recommended that the churches of the Association should endeavor to raise the sum of $200 for sustentation, the same being for Elders Peter Turner and W. H. Tucker, who were now feeble and disabled from affliction.

Another workman who had long been prominent in the counsels of the body, had passed away this year, viz.: Deacon S. E. McDonald. He was born June 17, 1813, and died at his home in Wilkinson county, March 3, 1888. He united with Hepzibah church in 1841, and was ordained to the deaconship in 1848. The obituary says: "He ever loved the old Mississippi Association, and in order to be at its meetings, has made more sacrifices and rode more miles than any other man in it. * * * He was always ready to feed and entertain strangers. In reference to his church he was regular. No business or worldly care stopped him from going. His money was freely given to support the cause. He was always on the Lord's side and was so well posted in the Bible that he could meet any opponent to our doctrines
---
[p. 194]
successfully. * * * Brethren, a noble man has gone. Too much cannot be said in regard to his zeal and consecration to God's cause."

The matter of pastoral support was taking definite form, and leading laymen were giving serious attention to the subject. The report this year says: "It is the opinion of your committee that if there is a class that has a heavy burden to bear, that of our ministers is the heaviest. We would therefore recommend to the churches to systematize their methods of paying their pastors' salaries; that they pay them quarterly, and that every member, by the help of God, carry his end of the stick, and not let his brother or sister carry it for him, thereby leaving your pastor free from suspense to do the Master's work." W. Z. Lea was chairman and the language of the report has a familiar ring.

The statistics for 1887 were: Baptisms, 325; members, 2,349; contributions, $1,941.50. This was the first year in the Association's history when reported contributions reached the thousand-dollar mark. In 1888 there were 213 baptisms, 2,560 members. and the offerings aggregated $2,031.05.

The following were the pastoral relations this year:
T. C. Schilling served Bethel and Ebenezer.
J. R. Mullins preached for Beulah.
Peter Turner was bishop at Centerville.
R. N. Hall was pastor of Concord. Mars Hill and Mt. Zion.
R. J. Stewart preached for East Fork, Liberty and Zion Hill.
W. W. Bolls served Galilee.
D. S. H. Cox was pastor of Hopewell.
J. H. Lane ministered to McComb City.
W. J. Weatherly preached for Mt. Pleasant.
G. N. Bankston served New Hope, Amite.
W. L. A. Stranburg was bishop of New Salem and New Hope, Franklin.
Thomas Lansdell preached for New Providence.
J. M. Cook served New Zion.
C. H. Otken was pastor at Summit.
T. M. Elerbe preached for Sarepta.
R. J. Boone served Ramah, and G. W. Farmer was bishop of Siloam.

A strong report on prohibition was presented by the lamented W. F. Love, chairman of the committee. This report concludes as follows: '"Your committee believe that it is the duty of Christians to prevent sin and crime by removing its sources, inasmuch
---
[p. 195]
as the Christian religion is the only means whereby governmental methods are purified according to moral and legal methods. We think it very inconsistent, at least, for a church member to arraign, or vote for the exclusion of a brother on the grounds of drunkenness, when he, by his own vote and influence, has laid the temptation before him. And that it is unchristian conduct for a church member to patronize saloons, to sign a whisky petition, to vote for the legalized sale of intoxicants as a beverage, or in any way give countenance or encouragement to this iniquitous traffic."
Henry G. Quin was born June 30, .1830, and united with East Fork church in 1854. He was first ordained to the deaconship by this church, and on May 10, 1873, was ordained to the ministry. He served in the capacity or Sunday school superintendent and was also pastor of a number or churches in different parts of the country.
---
[p. 196]
Mr. Quin was twice married; first to Miss Virginia E. Davies, of St. Helena parish, La., December 22, 1852; and second to Mrs. Lucy Mitchell, October 10, 1880. Several children were born to him by the first marriage. His death occurred February, 1890, at a little less than sixty years of age, and thus another servant of the Master entered into rest.

1889 The place of meeting this time was New Zion, Amite county, and the time October 11th to 14th. R. J. Stewart preached the introductory sermon from Jer. 23:5 -- "A king shall reign and prosper." Permanent organization was effected by the election of R. J. Stewart moderator and W. P. Gardner treasurer, while D. M. Huff was continued in charge of the Associational records. Two new churches, Bethlehem and Hebron, were received, A. J. Bates and W. E. Lea coming from the former, and W. B. Moore and John F. Hamilton from the latter.

W. W. Bolls offered the report of the committee appointed last year to look after the education of Miss Mattie Cook, giving receipts at $106.65.

The Association still had an Executive Board and they reported $176,90 received, the same having been paid out for missions, sustentation, education, etc. And an essay on "The duty of the churches to co-operate with the Executive Board in Christian work" was published in connection with the report.

Two queries were submitted from Mount Zion church, viz.:
"Should a minister of the gospel be permitted to hold his credentials who owns stock or holds office in fair associations where gambling of any kind is tolerated, especially horse-racing? "
"What should be done with a member of the church who visits fairs where gambling is tolerated, thereby lending his influence for evil by being present, if not participating?"

These queries provoked considerable discussion and a number of amendments and substitutes were offered. The following was finally adopted: "We believe that a Christian minister or member of the church may own stock or shares in a fair association, or visit a fair with impunity, provided no gambling or other "unchristian practices are permitted by such fair association. But should a minister of the gospel or member of the church hold office or shares in a fair association, or visit a fair, where gambling in any form is, or unchristian practices of
---
[p. 197]
any kind are, tolerated, said minister of the gospel or members of the church should at once be subjected to discipline by his or her church."

During the meeting there was preaching by Elders D. A. Given, John P. Hemby, T. C. Schilling, E. T. Smith, H. S. Archer and D. S. H. Cox, a schoolhouse near by being occupied. W. L. A. Stranburg and E. T. Smith also preached for the colored people at Parson Hill.

A resolution was passed, expressing the thanks of the Association to W. Z. Lea for faithful services during his long term as treasurer, his last report being made this year.

There were a few changes in the pastorates this year as follows: J. P. Hemby served Galilee; E. P. Douglas preached for Mars Hill; J. R. Baham was pastor of New Hope (Amite); H. G. Quin was bishop of Siloam, and S. W. Sibley ministered to Summit.

At 9:45 on Sunday morning the Woman's Missionary Union held a meeting, seventeen societies being represented. Mrs. P. L. Bates spoke on "The Work Christ Gave His People to Do, and Woman's Part in That Work." Essays were read by Misses Dollie Brashears, May Gordon and Issie Jenkins.

The usual subjects were discussed and the Association adjourned to meet next year with Ramah church. Elder H. G. Quin made the closing prayer, and this was his last time to meet with the old Mississippi.
---
[p. 198]
J. R. Baham, of East Fork, Miss., is sixty-one years of age. He was ordained to the ministry in 1885, and has served a number of churches as pastor, both in Louisiana and Mississippi. He has a limited education, but is a man of consecration and spiritual power. He is a thorough believer in the old doctrines of the Bible, and has no patience with new theological opinions and religious
fads. He has good ideas of the interpretation of Scripture and is specially gifted in prayer.
For a number of years Mr. Baham has resided at East Fork, where he has stood faithfully by the work of the church. He places the number of persons uniting with the churches under his ministry at approximately one hundred. He has done much in the way of visiting the sick and conducting funeral services. His wife is likewise a consecrated Christian, and has shared with her husband the burdens of life. They will have their reward.

==============
[Taken from T. C. Schilling, Abstract History of the Mississippi Baptist Association, From Its Preliminary Organization in 1806 To The Centennial Session in 1906, 1908, pp. 165-198. - jrd]
---